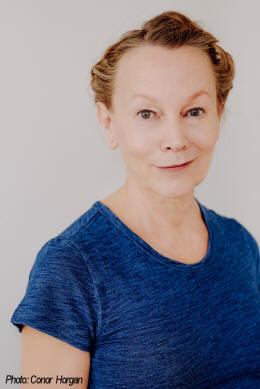 Kate has an MA in French and English literature from Trinity College, Dublin. She began her career as a professional actor – winning a Dublin Theatre Festival Best Actress award – before becoming a fulltime writer. As Kate Thompson she has had a dozen novels published, including the Number One bestseller

The Blue Hour

, which was shortlisted for the RNA award.

Kate's novels have been translated into French, German, Greek, Italian, Czech and Dutch, and are available as audio books. She has contributed to numerous newspapers and magazines in Ireland and the UK, written and broadcast for RTE, and is regularly invited to participate in literary events across the media.

As Kate Beaufoy her first historical novel – the critically acclaimed

Liberty Silk

– spent four weeks on the Irish Times bestseller chart. Her latest novel -
Another Heartbeat in the House
– charted last summer and was shortlisted in the popular fiction category in the Irish Book Awards 2015. Inspired by William Thackeray's Vanity Fair, it tells the story of the woman who became governess to his children and who may have been the prototype for literature's most enduring and engaging heroine, Becky Sharp.

Kate lives some of the year in Dublin and some on the West coast of Ireland. She is an advanced-level scuba diver, a wild swimmer, a keen practitioner of Bikram yoga, and the fond keeper of a bewitching Burmese cat. Her new novel - The Gingerbread House - is due in 2017.

Kate is available as a professional mentor for aspirant novelists: please

click here

for details.